1.7.7 : Thoughts on Television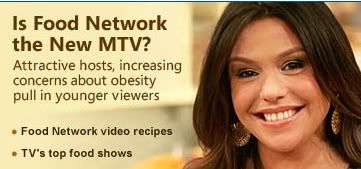 This ad haunted me for a whole day last week while I was checking my e-mail, which inspired me to pen the following paragraph. Sadly, I have no answers re: Food Netword being the new MTV.
I like
Rachel Ray
. I can't help it. I'm sorry to those of you disappointed by this news. I've really only seen like two episodes of her show, but what I did see was pretty good. She's very overexcited that would be annoying, except she's rather cute in a girl next door sort of way. I must have a thing for female chefs, because I also really dig Gail Simmons, of Top Chef fame. Unfortunately, I don't have much time for daytime TV, so I will have to catch RR in those times when you end up stuck watching TV at a random place (waiting room, someone else's house, etc.)
In other TV news, I am going to Tivo the new season of
24
and give it a chance. I didn't watch seasons 1 to 5 (despite it being on ad nauseum in syndication). Hopefully I can still get into it.
Also, I will try and watch
The Apprentice : LA
, because I enjoy a well structured reality show. While I'm not a huge Apprentice fan, I find that if I give up on it for a season or two, then come back to it, it's pretty good.
I've been watching a lot of the show
Masterminds
as well. That's on Court TV and, I believe, in syndication as well.
Other shows I enjoy that I may comment on in this blog from time to time ...
Lost, Heroes, Survivor, Law and Order : SVU, It's Always Sunny in Philadelphia, Curb Your Enthusiasm, Big Brother, and a few others I can't think of right now.
Labels: Television