Noory / binnall Summit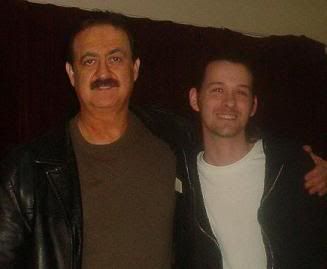 (Excerpted from this week's binnall report)
Yes, kids, it happened.
So, I was in San Diego from 12.14 to 12.28 and, during my visit, none other than George "The Noor" Noory was also in town for a "Worker in the Light" book signing.
Keeping the details to a minimum, suffice it to say, there was a decent sized audience of creepy to not-quite-so creepy Coast fans in attendance to meet and greet with The Noor. After a brief Q & A period, featuring such gems as "Where did you come from ?" and "Thank you for the bumper music." (That's not even a question, sir), Noory got around to signing books. During the Q & A, I wanted to stand up and ask Noory an actually relevant question, but I was afraid of being bludgeoned to death by a horde of angry Nooryheads.
Following a lengthy and surreal wait in line, which saw me meeting someone who is apparently a BoA : Audio listener and taking a pic with him. (Yes, I'm a quasi-celebrity now. I can die in peace.) I finally met The Noor.
Think of Ralphie from a Christmas Story after he finally gets up there to meet Santa. What does one say to a Nighthawk ? Well, first I told him my name. Then, he just about jumped out his chair and yelped, "Tim Binnall !" in his trademark Noory "excited" style. Apparently, he knows of binnall. That exchange ranks up there with some of the strangest experiences of my life. I wasn't quite sure what to say after that, but we gabbed for a brief moment while the Nooryheads behind me in line cursed my name for taking so long. And then I was whisked off, away from the rarefied air that surrounded the leather jacket clad Noor.
I wouldn't be surprised to see our talks continue with a follow up Noory / binnall summit sometime in 2007.
Labels: binnall report, Noory